At International Yamanote Kindergarten we do our best to put your worries at ease. Not only do we have a preschool program called "Play School", but we also offer after-school care for your child with our "Kids World" program. We are here to assist you in raising your precious children.

インターナショナル山の手幼稚園では、幼稚園と家庭が連携をとり、一緒にお子さまを育てていけるように、またお母さまが安心して子育てをしていけるように、未就園クラスの『プレスクール』や幼稚園の通常時間後にお子さまをお預かりする『キッズワールド』を行っています。
Rabbit Class ラビットクラス
This is a program offering various experiences including music, English, crafts, and more. With lessons 3 times a week, our youngest learners get to experience a variety of activities that will help them build their curiosity and intelligence as well as their bodies. We provide a range of activities and lessons that include English, music, swimming, as well as art activities using crayons as well as paints.
In the first term, mothers join their child in class so they can see and understand everything about our classes. From the second term the children will eat school lunches and packed lunches. They will also interact with other students at the kindergarten and participate in events.
音楽、英語、製作様々な経験ができるプログラムです。週3回の活動で すが、知的探索活動が活発になる時期、English、Music、 Swimmingと様々なレッスンを体験するほか、体を使っ た運動、クレヨンや絵の具を使った造形活動なども体験します。 一学期はお母さまと一緒に活動に参 加し、幼稚園生活を体験します。二学期からは、 給食やお弁当を食べ、在園児と交流したり、幼稚園のイベ ントにも参加していきます。 
Koala Class コアラクラス
This is a program designed to help the children fall in love with English. In this twice-a-week program the children experience life in English with a native English speaker. In doing so, they are able to learn the English language more naturally.
In the first term children join their mothers for English games and craft activities, and become accustomed to the English they will use in kindergarten life. As they learn to make the sounds used in English they become used to kindergarten life. From the second term the children have school lunches and packed lunches. They get to interact with the immersion classes and take part in various events.
英語が大好きになるプログラムです。週2回の活動で、外国籍教員と一緒に生活をし、様々な活動を英語で経験しながら、自然に生活英語を身に付けていきます。一学期はお母さまと一緒に英語でゲームや製作などの活動に参加し、英語の音に親しんでいきます。二学期からは、給食やお弁当を食べ、イマージョンクラスと交流したり、幼稚園のイベントにも参加していきます。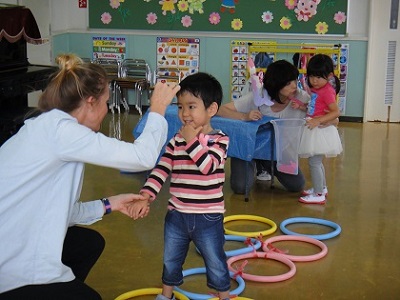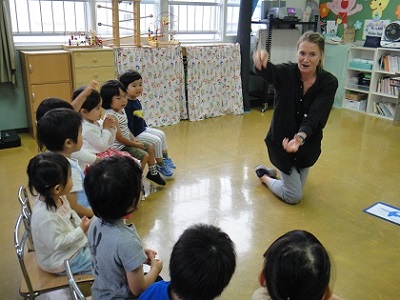 Rabbit Class ラビットクラス
~A Standard style class with activities led in Japanese by the homeroom teacher~
(3 teachers including a native English Speaker)
Age:
1 year course・・・・・ Limited positions 2018/2019 year
(2~3 years old = children born between 2015-04-02 and 2017-04-01)
Details:
Monday : Rhythm play with a music teacher
Wednesday : Craft and games
Thursday : English teacher lesson, with some Swimming lessons during the year
Times:
April ~ July 10:30am ~ 12:00pm
August ~ March 10:30am ~ 1:30pm
Lunch :
Mondays and Thursdays -> School lunch
Wednesdays -> Packed lunch
~Japanese teacherが日本語で進めるプレスタンダードクラス~
(外国籍教員を含む教師3名)
平成31年度対象:
平成27年4月2日から平成29年4月1日生まれ
内容
:月曜日・・・音楽の先生と楽しくリズム遊び
水曜日・・・製作やゲーム遊び
木曜日・・・English teacherと楽しいEnglish lesson
(Swimming lesson年4~5回)
時間:4~7月(1学期)
AM10:30~PM12:00
6・7月に午後1:30までの活動が数回あります。
親子で参加、お弁当持参、自由参加です。
8月~翌年3月(2学期)
AM10:30~PM1:30
(月・木は給食、水はお弁当です。)
定員
:少人数若干名
Koala Class コアラクラス
~Immersion style class, led in English by the overseas teacher~
(3 teachers including a native English speaker)
Age:
1 year course・・・・・ Limited positions 2018/2019 year
(2~3 years old = children born between 2015-04-02 and 2017-04-01)
Details:
Tuesday: English games and craft
Friday: Rhythm play in English
Times:
April ~ March 10:30AM-1:30PM
Lunch :
Tuesdays -> School lunch
Fridays -> Packed lunch
(Both days are packed lunch until July. From August, Tuesday is school lunch, and Friday is packed lunch.)
~English teacherが英語で進めるプレイマ―ジョンクラス~
(外国籍教員を含む教師3名)
平成31年度対象:
平成27年4月2日から平成29年4月1日生まれ
内容
:火曜日・・・Englishでゲームや製作
金曜日・・・Englishでリズム遊び
(Swimming lesson年2~3回)
時間:4月~翌年3月
AM10:30~PM1:30
(7月まで両日お弁当 8月~火:給食 金:お弁当)
1学期中のLunchの後、親子でEnglish teachersと
Phonicsやダンスを楽しみます。
定員:
少人数若干名
*Fees:
Sign-up Fee: 30,000円
(Students that go on to enter International Yamanote Kindergarten will receive a discount equal to this sum from the sign-up fee.)
入会金 30,000円 (次年度にインターナショナル山の手幼稚園に入園される際は、 入園料から入会金分を差し引かせて頂きます。)

Monthly Fee: 23,000円
(This fee is for all provided lessons in a month, not student attendance.)
月会費 23,000円 (月会費は、その月のプレスクールの回数や出欠に関係なく、 毎月納入していただきます。)

*Events:
Entrance Ceremony, Excursions, Crops Thanksgiving Day, Sports Festival, Halloween party, School plays, completion ceremony.
開室式、親子遠足、Crops Thanksgiving Day(収穫祭)、Physical Festival(運動会)、Halloween party、
Hyogen Festival(発表会)、修了式

*Plus:
Students who continue with International Yamanote Kindergarten will be given preferential class placement.
次年度のご入園の際に、優先的にクラスをご選択頂けます。